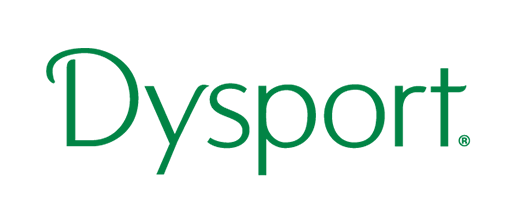 What is Dysport®?
Dysport® is a FDA-approved injectable that can be used to improve dynamic lines and wrinkles in the upper face of both men and women. It is especially effective in treating moderate to severe wrinkles between the eyebrows, forehead, and around the eyes. As a neuromodulator, Dysport works similarly to Botox, and blocks nerve impulses to your facial muscles, causing them to relax. The result is softened wrinkles and lines for a more youthful appearance.
How Does Dysport® Work?
Every single day we contact our facial muscles to make different expressions, such as smiling and raising our eyebrows. This repeated muscle movement can lead to the development of lines and wrinkles over time, creating dynamic wrinkles. Dysport helps to temporarily reduce specific muscle contractions to soften lines and wrinkles.
Who can Benefit from Dysport®?
Individuals who wish to soften the appearance of lines and wrinkles between their brows can often benefit from Dysport®. You may not be an ideal Dysport® candidate if you are pregnant, breastfeeding, or planning to become pregnant. Call us for a complimentary consultation and we can help you determine if Dysport® is right for you.
Curious about similar products? We also offer Botox®! Both injectables are neuromodulators, intervening in the movement of muscles. During your consultation appointment we can discuss the differences with similarities.
I had my first facial here yesterday and it was a wonderful experience. The environment was very soothing and the staff was all very friendly, especially Josselyn who was such a sweetheart. Her bubbly personality made me feel welcome and created a comfortable atmosphere. Would highly recommend to anyone who is looking to get some quality self-care.
Sandra is magic! I absolutely love this place! So happy to have found Skin Refine.
What to Expect?
During your Dysport injection treatment, ice may be given a to numb the treatment area to ensure your comfort. However, many people find this unnecessary as the injections are not very deep. Your provider will assess the specific areas of your face that are to be injected, and then use a small syringe to inject the Dysport. This process can take anywhere from 15-30 minutes to complete the entire appointment.
What are the Results?
Dysport has very few side effects, though some people may experience temporary headaches or injection site skin reaction. Because there's no downtime, Dysport is considered a lunchtime procedure. If you want to know the full list of side effects, we can discuss them during your consultation, as we want you to be confident in the procedure.
This effective neurotoxin treatment reduces or removes fine lines and relaxes the muscle for a more youthful appearance. You should start to see improvements within a few days, and final results within 14 days. The results can last between 3-5 months.
Contact Us Form
Request your free consultation at Skin Refine Medspa in Sunnyvale, CA by filling out the form below!
Book Your Appointment Today!
Want to relax your facial lines without flattening your facial expressions? Look natural with Dysport® at Skin Refine Medspa in Sunnyvale, CA. We want to preserve your natural beauty while combating signs of aging.
Skin Refine Medspa is located in Sunnyvale which is 35 miles south of San Francisco in the South Bay. We are centrally located in the heart of Silicon Valley and we are surrounded by Mountain View, Palo Alto, Cupertino, Santa Clara, San Jose, Los Altos, Woodside, Redwood City, Menlo Park, Saratoga, and Los Gatos.