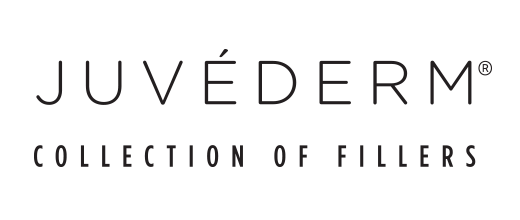 What is Juvéderm®?
Juvéderm is a hyaluronic acid (HA) dermal filler product line to combat signs of aging by plumping the skin and physically filling in lines in the facial tissue while achieving natural-looking results. Hyaluronic acid is a naturally occurring substance produced by the skin to attract water, and therefore volume throughout the face and body.
Using skin injection procedures, Juvederm products smooth away moderate to severe facial wrinkles and folds caused by a lack of tissue volume, fill lines and grooves around the mouth, provide lip augmentation, and deliver volume, lift, and definition to the cheeks, chin, jawline, and other areas of the face.
Who can Benefit from Juvederm Facial Injections?
Adults who are interested in combating signs of aging such as lines and wrinkles, thinning lips, or hollow cheeks and eyes can benefit from Juvederm fillers. However, patients with a history of severe scarring, allergies, or bleeding disorders, or who are pregnant or breastfeeding should not receive dermal filler injections.
The safest way to determine if Juvederm fillers are right for you is to schedule a complimentary consultation appointment at Skin Refine Medspa. During this appointment, you will speak with one of our medical or skincare professionals to determine dermal fillers are the right treatment option to achieve your anti-aging goals.
Juvederm Products
At Skin Refine Medspa, we offer a variety of other Juvederm fillers to treat a diverse array of facial imperfections.
Juvederm Ultra XC: Treats wrinkles and nasolabial folds that appear around the mouth and nose.
Juvederm Ultra Plus XC: Plumps the lips, sculpts the cheeks, and fills in wrinkles and folds.
Juvederm Vollure: A dermal filler that softens parenthesis, wrinkles, and lines.
Juvederm Voluma: Adds volume to the sagging or hollow cheeks.
Juvederm Volbella: Treats vertical lines and adds fullness to the lip area.
What To Expect From Juvederm Procedures
Any dermal filler procedure begins with a consultation with our skin injection specialists at Skin Refine Med Spa. From there, we will recommend the specific brand and formula to help you correct your facial contour or wrinkle concerns.
Every injectable gel treatment at Skin Refine Med Spa is tailored to your unique facial anatomy and goals from treatment. This means that the amount, location, and technique will vary from others' facial injection procedures, but will be completely safe and satisfying upon seeing the full result.
Results and Recovery From Juvederm
After a Juvederm procedure, there's no downtime needed for recovery, which means you can get right back to your normal routine. However, some side effects can be expected, such as redness, swelling, bruising, and tenderness at the injection site.
Most fillers take about a week or several days to "settle" into their final location in the skin, after which point you'll see your full, long-lasting results. Depending on the amount of formula used and the location of injection, Juvederm can last up to two years in some patients. After the effect has dissipated you're free to come back to have another consultation and touch-up treatment.
Contact Us Form
Request your free consultation at Skin Refine Medspa in Sunnyvale, CA by filling out the form below!
Schedule Your Appointment Today
To learn more about the Juvéderm® line of dermal fillers and how they can help you achieve the youthful, refreshed look you desire, contact Skin Refine Medspa online or call us at (408) 245-7877 today! Our friendly and professional staff will be happy to answer any questions you have regarding these products, as well as schedule you for your consultation appointment.